SVENSKA
Storkyrkan har varit platsen för många historiska händelser och starka personligheter allt sedan 1200-talet. Här har politiska och religiösa förändringar utgått. Här har kungar och drottningar krönts, gift sig och begravts.
Många av våra föremål i Storkyrkan är en manifestering av maktspråk, men också storslagen konst och kreativa påhitt för att ge Sverige en svensk dräkt.
En speciell historia om de hebreiska bokstäverna på predikstolen är obetalbar och visar hur långt man kunde gå för att göra Sverige till en statsmakt.
Denna audioguide kommer att ta dig från byggandet av Storkyrkan, från kröningar av kungar och drottningar, till maktkampenen mellan politik och religion. Du får också reda på varför dessa föremål finns i Storkyrkan.
Varmt välkommen till en guidning i historia, politik och konst.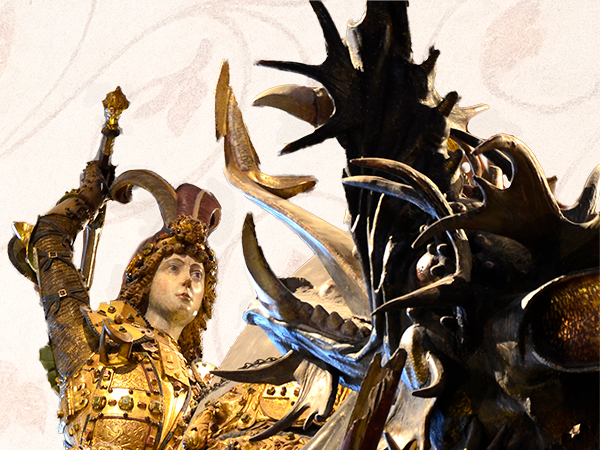 FÅ TILLGÅNG TILL AUDIOGUIDEN VIA DIN MOBIL
Anslut dig till nätverket: STORKYRKAN
Gå till URL: www.storkyrkanaudio.com
Välj: AUDIO GUIDES
Välj: Svenska
Ange din kod
Observera att du inte kan byta språk eller gå till en annan guide när du väl har startat en guide.
ENGLISH
Since the 1300s, Storkyrkan – Stockholm Cathedral – has been at the heart of religious and political life in Sweden. Events and personalities have left their mark, inside and out. Coronations happened here. And royal weddings still do. A rich musical tradition still flourishes. And this remains a place of Christian worship and learning and lively debate.
This audio guide will take you from the building of the Cathedral through to the present day. You will learn about flying angels, St George and the dragon and other fascinating artefacts.
You will also hear about kings and queens, about the Protestant Reformation in Sweden and a battle between church and crown.
Welcome to Stockholm Cathedral!

HOW TO ACCESS YOUR GUIDE ON YOUR MOBILE
Connect to WIFI: STORKYRKAN
Insert URL: www.storkyrkanaudio.com (here)
Choose: AUDIO GUIDES
Choose: English
Insert your code to lock up the guide
Please note, that you cannot change guide or language when you have locked up the guide